The new 5Day Ipswich Centre is now taking bookings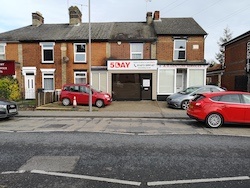 Our new Ipswich centre is now open for bookings. The first set of courses start April 6th 2020. Please use the online booking link or call the office on 01493 599147
The centre is the 15th centre to open over a 16 year period. Demand at our Norwich, Bury St Edmunds and Chelmsford centre has been so high that a new centre in Ipswich was needed.
The centre will be headed up by our Theory Trainer, Lindzee, and supported initially by two local DVSA Instructors. Lindzee has been our Theory Trainer in Bury St Edmunds and brings with her a vast experience and knowledge of both the Theory training and the Practical training.
The Ipswich centre is located on a main arterial bus route, just 10 minutes from the town centre. Customers can arrive easily by bus or train. The centre is also conveniently located close to both the Theory Test Centre and the Driving Test Centre.