How does it all work?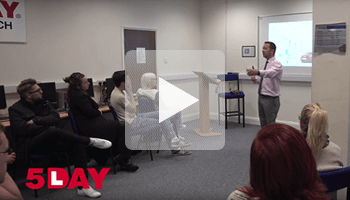 Learn to drive the modern way with 5DAY™. You attend our dedicated training centre daily Monday to Friday (please see individual branch location pages for exact times); each day begins with a "rules of the road" brief. You are then introduced to your individual qualified instructor who will work with you throughout the week. All in car tuition is 1:1 with no car sharing. On completion of the practical sessions you return to the training centre for theory classes. Theory tests are pre-arranged and, once passed, 5DAY™ will assist you in applying for your priority practical driving test. As an approved training company 5Day has access to the Governments Practical Driving Test Business Service. When ready, we book your driving test directly using their live system. We do not use third party websites. We also ensure your instructor and car is available for your test.
How are we different?
Many other intensive driving courses only allow you to book individual driving lessons in blocks which span a number of weeks. At 5DAY™ we believe intensive lessons are important; over the 5DAY™ course you will learn the practical and theory syllabus. All our instructors are extremely experienced in providing tuition in a structured and efficient manner, giving you the best learning experience.
What our customers say!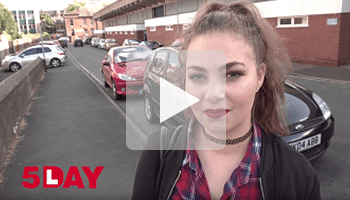 As a 5DAY™ pupil, you will receive theory tuition as well as the practical driving training. If you are unable to pass first time you will receive unlimited free retraining on the main fault that caused you to fail
Who uses 5Day?
Anyone wanting to learn how to drive efficiently and safely are welcome at 5DAY™; from beginners to banned drivers. We work hard with you to attain the best level of driving possible by the end of the intensive course. Even celebrities have been on the intensive driving course. Sean Ward, Joe Swash, Eden Taylor-Draper, Finn Jones, Catherine Tyldesley have all passed their test having successfully completed the 5DAY™ course.
Why choose 5Day over normal weekly lessons?
All 5DAY™ centres have a fantastic team of Approved Driving instructors and tutors on site to provide professional theory training and practical briefs. Both male and female instructors are available, all of which provide manual or automatic training, at most centres, using modern, reliable vehicles.