How does it all work?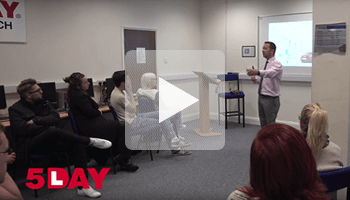 Learn to drive the modern way with 5DAY™. You attend our dedicated training centre daily Monday to Friday (please see individual branch location pages for West – South London and Peterborough); each day begins with classroom based theory training, including some "rules of the road" information. This training is daily from 8am until 10am. You are then introduced to your individual qualified instructor who will work with you throughout the week. All in car tuition is 1:1 with no car sharing. The practical driver training is from 10am until 2:30pm Monday to Friday and you will stop for a 30 minute break during this period.
Theory tests are pre-arranged and, once passed, 5DAY™ will assist you in applying for your practical driving test. As an approved training company 5Day has access to the Governments Practical Driving Test Business Service. When ready, we book your driving test directly using their live system. We do not use third party websites. We also ensure your instructor and car is available for your test.
How are we different?
Many other intensive driving courses only allow you to book individual driving lessons in blocks which span a number of weeks. At 5DAY™ we believe intensive lessons are important; over the 5DAY™ course you will learn the practical and theory syllabus. All our instructors are extremely experienced in providing tuition in a structured and efficient manner, giving you the best learning experience.
What our customers say!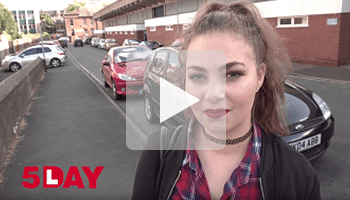 As a 5DAY™ pupil, you will receive theory tuition as well as the practical driving training. If you are unable to pass first time you will receive unlimited free retraining on the main fault that caused you to fail. Due to the after effects of the pandemic the current government DVSA waiting list has increased from 6-8 weeks up to 20 months, this mainly applies to the following, but not limited to Manchester, Peterborough, Sidcup and Bristol while the DVSA works though the back log which is frequently mentioned in the media
Who uses 5Day?
Anyone wanting to learn how to drive efficiently and safely are welcome at 5DAY™; from beginners to banned drivers. We work hard with you to attain the best level of driving possible by the end of the intensive course. Even celebrities have been on the intensive driving course. Sean Ward, Joe Swash, Eden Taylor-Draper, Finn Jones, Catherine Tyldesley have all passed their test having successfully completed the 5DAY™ course.
Why choose 5Day over normal weekly lessons?
All 5DAY™ centres have a fantastic team of Approved Driving instructors and tutors on site to provide professional theory training and practical briefs. Both male and female instructors are available, all of which provide manual or automatic training, at most centres, using modern, reliable vehicles.
Myth Busting Questions and Answers
Q. Will I have my practical driving test at the end of the 5 Day course ?
No. We have never offered this. Unfortunately current DVSA driving test waiting lists can be up to 18 months in some areas, no one can offer this. However, what we will do is find you a test quicker than you can find yourself, and certainly well before the end of the waiting list.
Q. Will I be test ready at the end of the 5Day course and can I really learn to drive in 5 days ?
That all depends on you! Everyone learns at different rates, where some require additional training or more practise after the course to get to the required standard other do not.  On average the people that pass first time are those that have continued practising after the course while they wait for their test date or pay for additional lessons should they not be test ready at the end of the course. We do offer a 10 day driving course which is fantastic value for money with added benefits should you be a complete novice with no driving experience offering 40 hours of driving in two weeks (Ask sales team)
Q. Is the 5 Day course a guarantee that I will pass and will I be a great driver at the end of it ?
Nobody in the world can guarantee you will pass, but we can guarantee that you will be a noticeably better and safer driver at the end of the course compared to when you started 
Q. If I can't get a test at the end of the week, what is the point of leaning in 5 Day's ?
5Day is a great way to gain Intensive Driving Experience and Confidence. Speeding up your ability to control a car and gain road knowledge. This amount of experience would normally take months using private weekly lessons. 
Q. Will I forget to drive between finishing the course and my test ?
Not at all. You now know how to drive! Our advice will always be to keep practicing with mum or dad or a friend until your driving test, and keep building on the skills you have been taught, it is a lifetime skill.
Q. Can I change my course date once it is booked
Yes. You can move your course to another date as long as it's not within four weeks prior to the course starting. We have to contract one of our private instructors for your 5 day course and we can't cancel our contract with them once allocated unless we also give them four weeks notice before the course start date. This does mean that once you book your course with 5 Day you will know that it is guaranteed to go ahead, unlike other intensive schools, we never cancel courses once booked. (Unless in very exceptional circumstances beyond our control)
Q. Why can't 5day get me a test at the end of the course week 
5Day are not the people testing you, the government is. We are governed by the DVSA and can only get you a test once the DVSA release them, we have no control on when they release test slots and cannot force their hands. If Driving Tests are not available it is down to the DVSA and not 5Day. However, we understand that you have booked onto an Intensive Driving Course to fast track your learning, therefore our dedicated team we will get you a test 75% sooner than the national average for your area. We cannot be any fairer than that. (We are limited to certain test centres, you may get a test sooner if you're prepared to travel) 
Q. I have already passed my theory test why do you not discount the price ?
We always advise that if you have passed your theory test already, our course may not be the best value for money or right for you unless of course you do not have long left on your certificate. (They last 2 years) We believe learning the driver syllabus along side the theory syllabus is the correct way to learn to drive and produces great results and always has done. However if you believe you just need driver training and you want all that training in 5 day's rather than stretch it out over months we cannot stop you booking but advise you attend the theory training to keep up on current laws and keep the knowledge fresh in your mind.
Q. Can I discuss my child's / partners course in detail with customer services ?
You absolutely you can, but our contract is with the student regardless of who pays for the course so to be able to discuss the personal details of the course and the students' progress or any  issues simply, have the course student contact us in writing to give us permission to talk with you. Please understand that anyone could be claiming to be the parent or partner of the student and privacy is very important to us so we must go through security protocols and ask for the booking reference number amongst other individual ID's
Q. How do the free corrective lessons work 
If you fail a driving test, you have two options available to you. Either take us up on the free corrective lessons to correct what you failed on and then when you and your instructor are happy apply for a retest. Or you can apply for a new test and retake immediately. Unfortunately you can't do both at the same time.